Who We Are
The National Overcomers Network is a movement to acknowledge, amplify and equip people who have faced difficult personal vulnerabilities, and prevailed. We are a network of people, organizations and supporters who are working to build an American society where Overcoming is the norm, not the exception.
Our Mission
With a goal of creating a space for thousands of Overcomers, this Network shines a light on individuals who grappled with these vulnerabilities, became victors of their own lives, and are now seeking to make systemic change within their own communities.
The Benefits
For individuals who have overcome difficult personal vulnerabilities and are now on a mission to support systemic change within their own communities, the National Overcomers Network provides them with a platform and resources to help advance their goals and objectives. 
What We Do
Building a Network of Overcomers which together will influence how society Sees and Acts on deep poverty and homelessness
Speaking engagements
Consulting with Overcomers with "lived experience" and the tools that break the cycles of dependency 
Leadership training
Data & Analytics that go beyond measuring transactions and focus on transformation
---
---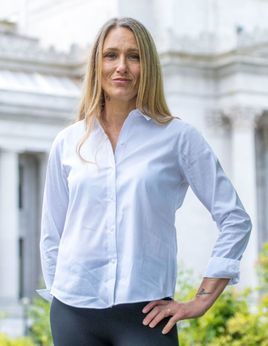 I would like to congratulate Solutions for Change and your launch of the National Overcomers Network. It was my honor as the National Spokesperson to work alongside so many amazing Overcomers who prove that Overcoming can be the Norm! For 22 years, Solutions for Change has facilitated the transformation of 1000s of Overcomers through its innovative business model and will serve 10,000 more through its national expansion. This initiative served as a pilot to a larger national platform that I am currently working on with a team of professionals and organizations across the country. 
If you are visiting this site because of the Tucker Carlson show and want to engage directly with myself, please check out my website, Instagram, or Facebook. I will routinely provide updates on our progress and opportunities to be involved.
To hear more about Solutions for Change and its impactful work, please visit their website.
---
Enjoy playback as we inducted the first class of Overcomers to ​​the National Overcomers Network on October 15, 2021!